Линия по розливу меда в бутылки с арахисовым маслом и пищевым маслом
This line is mainly aimed at peanut oil, edible oil, sunflower oil, palm oil, olive oil, sesame oil, soy oil filling packaging, it would customize the packaging production line machinery and equipment, while completing the packaging with high efficiency and energy saving, but also let the oil get good Storage is the preferred equipment line in the industry.
The main three parts include Filling , Capping sealing , and Labeling...All would customized
FOR FILLING PART
Servo piston filling machine:
1. Number of filling heads: 2~20 nozzles
2. Filling capacity: customers provide samples
3. Filling form: piston quantitative multi-head filling
4. Filling speed: about 1000-6000 bottles/hour
5. Filling accuracy: ±1%
6. Material: The filling machine structure is made of stainless steel
7. Program control: PLC + touch screen
8. Filling nozzles and feed troughs, etc. Materials in contact with liquid parts: 304# stainless steel, food grade PVC and POM
9. Air pressure: 0.6-0.8MPa
10. Conveyor belt: 82mm wide POM chain belt, speed 0-15m/min, height above ground 800mm±25mm (according to customer requirements)
11. Conveying motor: 370W frequency conversion motor
12. Power: about 3KW/380V three-phase
13. Protection device: alarm when the storage tank is short of liquid.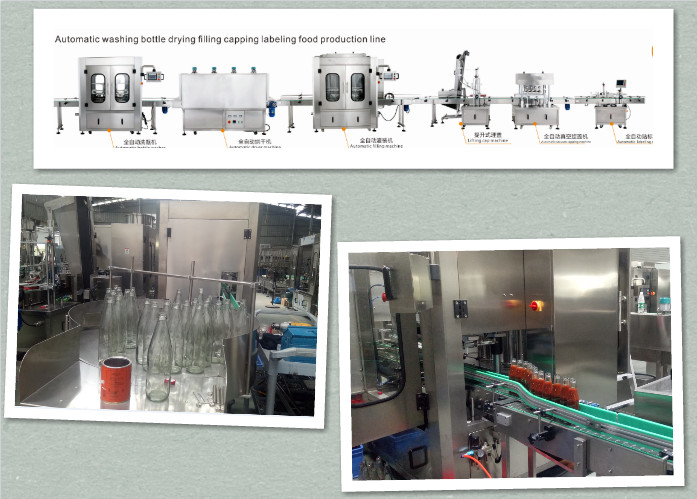 FOR CAPPING SEALING PART
Capping Sealing machine
Technical Parameters:
1 arrange cap way: ladder lift mechanism arrange cap (different specifications need to be changed parts)
2. Suitable bottle specifications: according to customer's sample
3. down cap form: hooking cap and downing cap automatically.
4. Capping type: electric gland or pneumatic gland press cap.
5. Speed: about 1000 ~ 6000 bottles / hour.
6. Program control: frequency converter control speed.
7. Machine power: about 1KW
8. Pressure: 0.6-0.8MPa
LABELING PART
Automatic heat shrink film sleeve labeling machine
Application range of automatic heat shrink film sleeve labeling machine:
Industries: fruit juice, tea drinks, dairy products, mineral water, purified water, sports drinks, condiments, sugar and wine, pharmaceuticals, cosmetics, washing supplies and other food and beverage industries and daily necessities industries;
Bottle type: round bottle, square bottle, flat bottle, curved bottle, special-shaped bottle, cup, bucket, pot, etc.
1. Adopt Air conveyor and bottle feeding wheel connection technology, canceled bottle inlet screw and conveyor chains, simple and easy to change for different bottle size. when bottle through the wind tunnels steels starry wheel directly to the washing part.
2. Machine parts that connect with liquid are made of high-quality stainless steel, easy to clean
3. With high precision, high speed and quantitative filling valve, the liquid level accurate ensure Filling Quality.
4. The capping head adopts constant torque device to ensure the sealing quality.
5. Adopt efficient cap Feeding system, with perfect cap feeding technology and protection device.
6. Transform the bottle shape without adjusting the height of the device, only replace the dial starwheel. The operation is simple and convenient.
7. Adopt bottleneck technology, avoid secondary pollution
8. The control system has the function of automatic level control lack-cap Eexamination, Flush-bottle stop itself and the output counts and so on