Автоматическая производственная линия по розливу и запечатыванию упаковки Honey Sala
This packing line is one kind of machine special for packing honey and Sala products.
Features of Automatic Honey Sala filling Sealing packaging production line:
1, Fully automatic production line process: puting bottles on the bottle feeding turntable - automatic filling honey sala - automatic capping and lower caps - automatic capping - automatic aluminum foil sealing - automatic labeling - finish bottle come out. (Also would base on the bottle and cap require to add washing machine, drying machine etc.).
2, Filling with servo-driven piston for quantitative filling, no leakage, no pollution, simple maintenance, high filling accuracy and stable filling.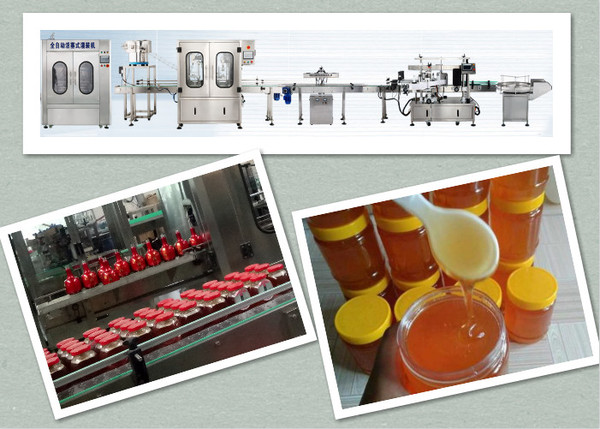 The screw cap adopts a pressure-type screw cap, and the equipment is easy to adjust.
Laser coding is used for coding, environmental protection, production date will never fade, and easy maintenance
Labeling adopts servo motor and imported electric eye induction, accurate labeling, high labeling accuracy, no wrinkle evenly
3. The whole line is made of food-grade stainless steel, which is easy to clean and disinfect, and meets the national regulations and requirements on food machinery and food hygiene.
The overall organic glass cover design is used to prevent impurities from entering the filling material, which is safe and hygienic.
4. Technical parameters:
(1) Applicable bottle width: customized according to customer products
(2) Applicable bottle height: can be customized according to customer products
(3) Filling capacity: 30-500ml (can be customized)
(4) Filling heads: customized according to production requirements
(5) Filling accuracy: ± 1% (equal volume filling)
(6) Production speed: customized according to output requirements
(7) Air pressure: 0.6-0.8Mpa
(8) Air consumption: 200 liters / minute
(9) Power supply: 380V / 50HZ, three-phase five-wire system
(10) Whole line power: 23KW
Operation Instructions for Honey Filling Sealing Process
1. Purpose: To clarify the company's filling operation, precautions and other related content.
2. Scope of application: suitable for company filling operations
3. Job content: operate the machine and pay attention to the adaptation of materials to the environment
4. Each part of the equipment is set by professional operators.