Automatic Twist Off Vacuum Screw Capping Machine For Jar Bottle with Feeder
Product Application
Automatic vacuum capping machine for food sauce jars glass containers bottles with two heads four heads size head choose.
It applies to screwing for vacuum sealing of glass bottle products such as seasoning,pickles,fermented bean curd jam, sauce , chili food, apple jam etc.
Automatic Twist Off Vacuum Screw Capping Machine is mainly appropriate to seal plastic bottles and glass bottles with advanced product design, reasonable structure and easy and simple operation. It is necessary and ideal packaging equipment of food and other industries.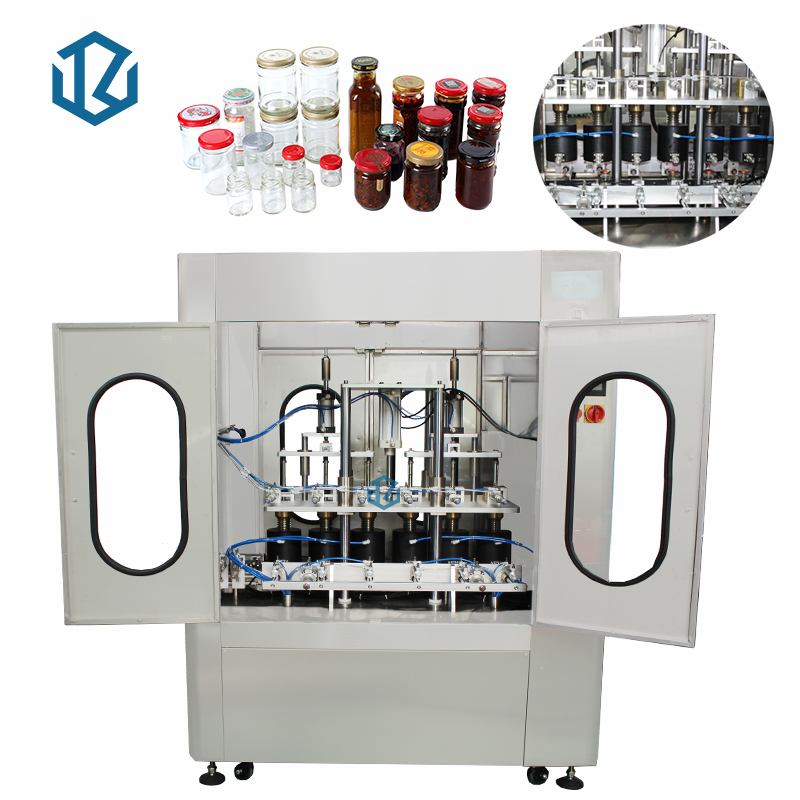 Automatic Feeder Twist Off Vacuum Screw Capping Machine
1. The vacuum capping machine is suitable for the sealing of the glass bottle of various shapes and specifications,
2. the bottle and the cover are automatically delivered to the vacuum chamber position,
3. then the vacuum chamber is formed, the vacuum is vacuumed, and the cover is tightened.
4. Applicable specifications: three screw cap, four screw cap.
5.over arrangement method: ladder belt lifting mechanism cover
6.Suitable bottle specifications: according to the sample provided by the customer
7.Lower cover form: mechanical lower cover can be added
8.Screw cap form: vacuum seal screw cap
9.Speed: 1500-2000 bottles/hour
10.Material: stainless steel frame
11.Program control: frequency converter speed regulation
12.Conveyor belt: 82mm or 114mm wide stainless steel chain belt, speed 0-15m/min, height above ground 750mm±25mm
13.Power of the whole machine: about 0.6KW
14.Air pressure: 0.6-0.8MPa
customer different shape bottle and different size bottle/ cap are welcome.