Shampoo/Handsanitizer/hand soap liquid/detergent/cosmetic/chemical filling packaging machine equipment with good price
Basic Information
Place of Origin: guangzhou ,china
Certification:CE, GMP
Minimum Order Quantity:one set
Price:directly factory price offer
Packaging Details:wooden standard packing
Delivery Time:35 work days.
Payment Terms:T/T, Western Union, MoneyGram
Detail Information
Product Name: Shampoo/Handsanitizer/hand Soap Liquid/detergent/cosmetic/chemical Filling Packaging Machine Equipment With Good Price
Application: Bottle Filling Packaging
Packaging Type: Bottles
Filling Capacity:10ml~100ml, 100ml ~ 500ml, 500ml~5000ml and others
Material: 304 Or 316 Stainless Steel
Power: 4 KW /AC 220V 50/60HZ
filling style: liquor bottle filling machine, liquid filling system
Fully Automatic Shampoo Bottle Filling Machine is mainly used in the shampoo filling operations.The whole process is automatic. The machine is easy to handle and nice looking, it is wisely used and welcome in filling shampoo, Hand sanitizer ,disinfectant ,Shower Gel area, This machine can also be used in hot filling if being installed with temperature controlling device. The handle of the machine can be freely and conveniently turned to adjust the machine to fill various types of bottles.
Technical Parameters
1. Number of filling heads supply: 1 head, 2 head, 4 head, 6head, 8head, 10head, 12head,16heads, 18 heads,20heads
2. Filling capacity: 10ml~100ml, 100ml to 500 ml, 500ml~5000ml
3. Filling form: full servo drive filling, would filling with rising
4. Filling speed: about 2000 bottles / hour for 6head. 3000bottle /hour for 8nozzles etc...
5. Filling accuracy: ±1%
6. Material: 304 stainless steel for filling frame
7. Program control: PLC + touch screen
8. Filling mouth and trough contact liquid parts material: 304# stainless steel, food grade PVC
9. Air pressure: 0.6-0.8MPa
10. Conveyor belt: 82mm wide POM chain belt, speed 0-15 m / min, height 850mm ± 25mm off the ground
11. Conveying motor: 370W variable frequency speed regulating motor
12. Power: about 4KW/AC220V 50/60HZ
13. Tank capacity: approx. 200 liters (with level switch).
Can be customized according to the actual situation of the customer
Fully Automatic Shampoo Bottle Filling Machine would single useing or match with capping machine, labeling machine together use as one filling line, Fully Automatic Shampoo Bottle Filling Machine match with different customer require, And is loved by the operators, hotsales items such like Shampoo filling machine,soap liquid filling machine,automatic filling machine,liquid filling machine.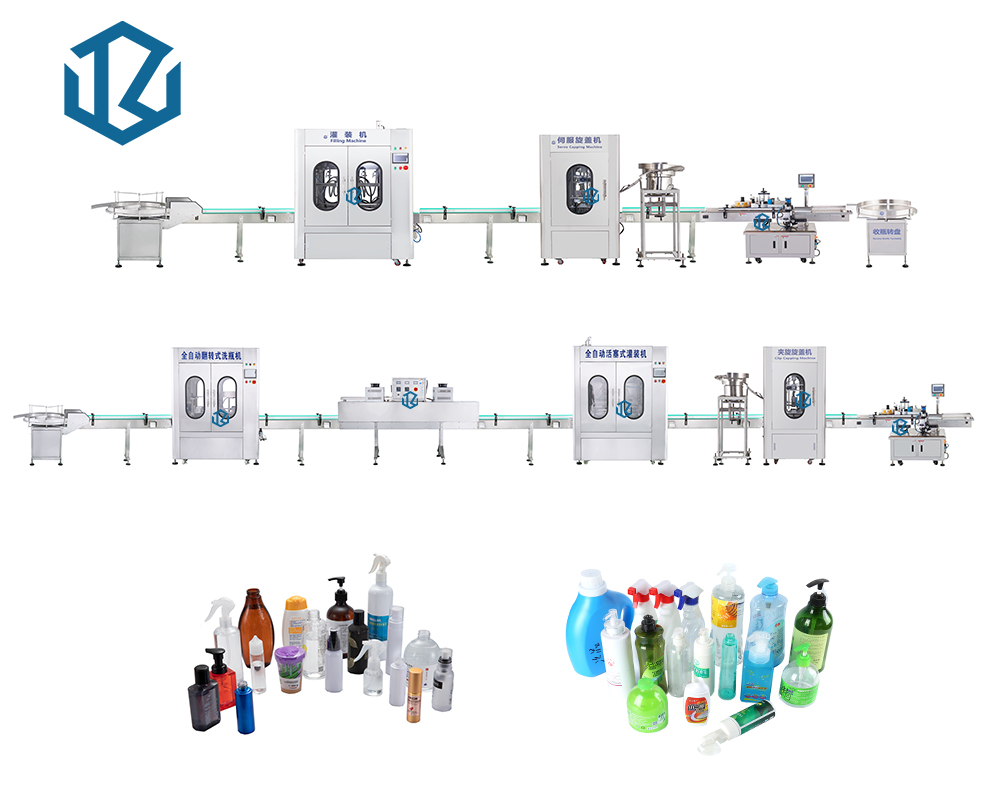 Automatic Bottle Filling Capping Machine Line for Hand Sanitizer / Disinfectant / Alcohol. Factory Direct Sale/ Fast Delivery/ Installation/ high quality/ good using/ easy handle.
we are the Filling machine manufacturer, famous for High quality guarantee China Filling Machine
and we offer One piece at wholesale price
we would be customized as requirements
hotsale items have shampoo filling machine
Bottle Filling Line
Bottle Packaging Line
One Stop Filling Machine
Auto Shrink Wrap Machine
alcohol filling machine
hand sanitizer filling machine
adhesive filling machine
Viscous liquid filling machine
Shampoo/Handsanitizer/hand soap liquid/detergent/cosmetic/chemical filling packaging machine equipment with good price 6
Our factory would according customer requirement to make the machine as well, similar hotsale machine such as :
detergent packing machine
hand sanitizer filling equipment
hand sanitizer bottle filling machine
sanitizer filling machine
hand sanitizer filling line
hand sanitizer bottle filling machine
hand sanitizer packaging machine
hand sanitizer packaging machine
liquid soap packaging machine
sanitizer packaging machine
perfume packaging machine