3KW 5000 Bottles / Hour Hair Wax Gel Balm Heat Filling Machine
Basic Information
Place of Origin:GUANGZHOU ,CHINA
Minimum Order Quantity:one set
Price:directly factory offer
Packaging Details:export wooden case packing
Delivery Time:45 work days.
Payment Terms:T/T, Western Union, MoneyGram
Get Best Price
Contact Now
Chat Now
Detail Information
Automatic Grade:Fully Automatic
Key Selling Points:Easy To Operate
Feature:Effective Filling And Sealing
Filling Heads Number:4nozzle~20nozzle
Filling Accuracy:± 99%
Pressure:0.6-0.8MPa
Power:About 3KW / 380V Three-phase
Protection Device:Liquid Storage Tank Stop Alarm.
High Light:3KW Heat Filling Machine, Gel Blam filling machine
Product Description
3KW 5000 Bottles / Hour Hair Wax Gel Balm Heat Filling Machine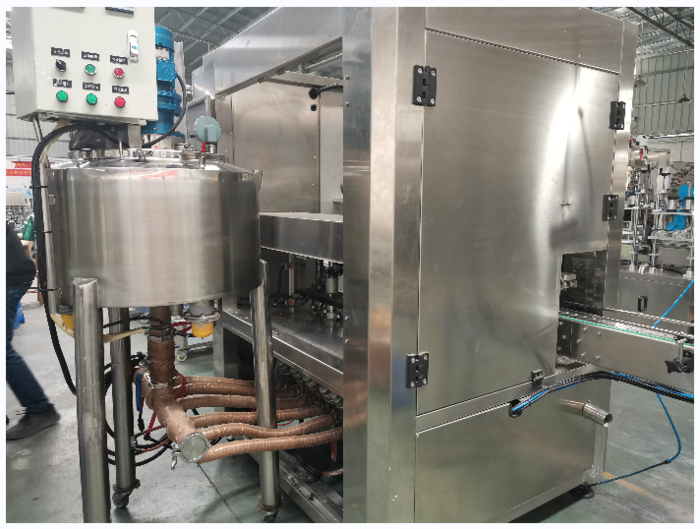 Hair wax hot Filling machine, Gel Blam filling machine
Technical Parameters:
1. Filling heads number: 4nozzle~20nozzle
2. Filling capacity: 50 grams~500 grams,500grams ~1000grams
3. Filling form: Piston quantitative filling
4. Filling speed: about 1200~5000 bottles / hour
5. Filling accuracy: ± 99%
6. Material: Filling rack with stainless steel
7. Program control: PLC + touch screen
8. Filling mouth and touch liquid parts Material: 304 # stainless steel, PVC
9. Pressure: 0.6-0.8MPa
10. Conveyor: 114mm wide POM chain with a speed of 0-15 m / min
11. Conveying motor: 370W frequency control motor
12. Power: about 3KW / 380V three-phase
13. Tank capacity: about 50~80 liters (with level switch, with heating temperature and stirring).
14. Protection device: Liquid storage tank stop alarm.
Hair Wax Gel Balm Heat Filling Machine widely use into different was and balm factory. farther details please contact with Cindy