Manufacturer Quality Assurance bottle 8 wheel screw linear capping machine high speed bottle capper capping machine
Specification
Automatic linear capping machine/Eight-wheel capping machine/High-speed capping machine/Triger capping machine
Equipment overview: This equipment is developed by our company with the introduction of foreign advanced high-speed rubbing principle and technology combined with many years of production experience. The equipment integrates automatic bottle feeding, automatic cap arranging, automatic capping, automatic capping, and automatic bottle ejection. It is stable and reliable in operation, simple and convenient to operate. It is the industry standard plastic cap and metal thread for food, beverage, medicine, health care products, etc. Round caps, etc., can be customized according to customers' bottle caps and requirements.
Technical Parameters: Capping method: 8 pairs of capping wheels to rub Screw cap range: φ10~ φ55mm (can be customized according to requirements) Adapt to bottle height: 50~300mm (can be customized according to requirements) Production capacity: 35~100 bottles/min Rated voltage: 220V 50HZ, 380V Work rate: 2.5KW Air pressure: 0.6~0.7Mpa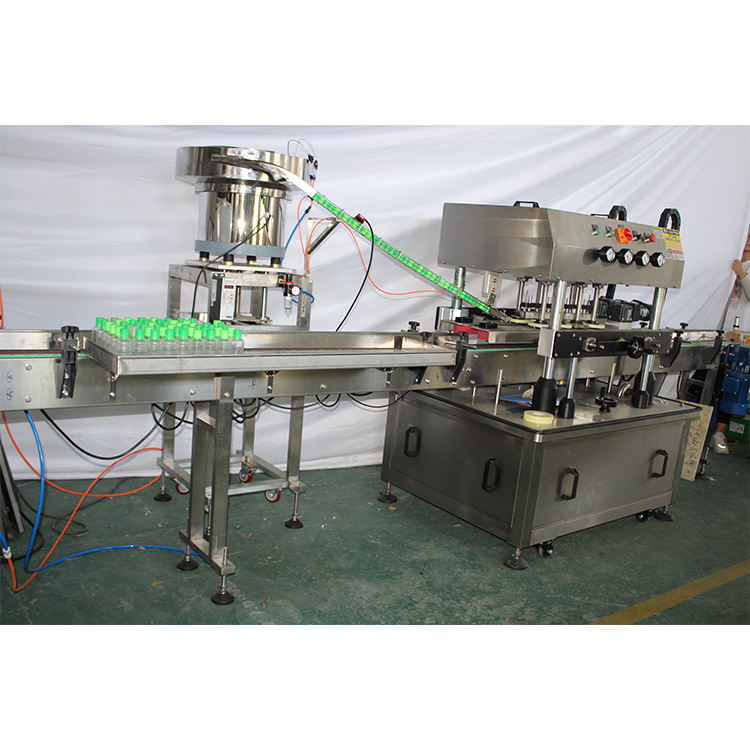 Applicable bottle caps: according to the bottle type and cap provided by the customer It can be used with other machinery on the same line, such as bottle washing machine, filling machine, capping machine, labeling machine, sleeve labeling machine, date stamping machine, sealing machine, sealing machine, etc. It is convenient to use and easy to operate.
Please provide your specific requirements and we will prepare the best solution for you as soon as possible.
Type:Capping Machine
Warranty:1 Year
Key Selling Points:Easy to Operate
Machinery Capacity:1000BPH,2000BPH,3000BPH,4000BPH,6000BPH Other output
Capping Material:plastic cap, tin cap, metal cap, pump cap , special cap etc
Capping Accuracy:99.9%
Marketing Type:Ordinary Product
Machinery Test Report:Provided
Video outgoing-inspection:Provided
Warranty of core components:12 Monthes
Core Components:Motor, Pressure vessel, Pump, Other, Gear, Bearing, Gearbox, Engine
Product name:Detergent, edible oil and other products cooking oil flling machine
would match with Filling machine:1,2, 4.6, 8,10, 12,14, 16,18, 20heads (can be customized)
Filling volume :100-1000ml, 1000ml-5000ml adjustable (can be customized)
Flling type:piston style, self flowing style, weigh filling style
Flling speed:1000-6000 bottles/hour
Filling error:1%
Conveyor speed:300-900meter/hour
Power:800W1 220V AC single phase or 380V
Program control:PLC + Touch screen Control
Manufacturer Quality Assurance bottle 8 wheel screw linear capping machine high speed bottle capper capping machine 3Manufacturer Quality Assurance bottle 8 wheel screw linear capping machine high speed bottle capper capping machine
1,This series of products is suitable for the sauce, jam, bird's nest and food industries.
2, heating in the filling, you can also add the function of heating and stirring, the temperature can be heated to 30-50 degrees, or 80 degrees, or customer-specified temperature.
3. Compared with similar products on the market, it has high efficiency and high precision.
4, with easy operation, wide application range, flexible switching.
5, in line with the characteristics of health standards.
For more question, Welcome contact with Cindy freely, 008613794308529, 36226571@qq.com, thanks