Customized Capacity Bottle Drying Machine Multi - Track Roundabout Circuit
Basic Information
Place of Origin: guangzhou ,china
Brand Name: tengzhuo
Minimum Order Quantity: one set
Price: Negotiable
Packaging Details: wooden standard packing
Delivery Time: 7-45 work days.
Payment Terms: L/C, T/T, Western Union
Get Best Price: Contact Now
Chat Now: Detail Information
Product Name: High Temperature Dryer.
Application: Food & Beverage Factory, Construction Works
Packaging Type: Barrel, Bottles
Feature: Easy To Operate
Material: 304 Stainless Steel
Filling Material: Flowing Liquid
High Light: industrial bottle dryer, industrial dryer machine
Product Description
Bottle Drying Machine
Bottle Drying Machine also call bottle high temperature dryer.
Bottle drying machine is a machine special to dry the water in the bottle body at high temperature.
The dryer adopts a high-temperature-resistant circulating fan, and the hot air generated is circulated in the box, which enhances the heat transfer, evaporates the moisture, shortens the drying time, and properly discharges hot and humid air and supplements fresh air.
(I) Equipment Features:
1. Semi-closed structure, internal circulation of hot air, energy saving and high efficiency.
2, the two ends of the bottle according to the bottle size set in and out of the channel.
3. Built-in high temperature resistant circulating fan, which greatly reduces heat loss and enhances heat transfer.
Advantages of bottle drying machine:
1, using multi-track roundabout circuit, energy saving and space saving;
2, high temperature drying can also be high temperature sterilization.
3. The equipment is suitable for glass bottles.
4, can be formulated according to different types of bottles.
5. Widely used in food, medical industry and high-end cosmetic glass bottles.
Bottle drying machine Technical Parameters:
1. Dry length according to customer requirements.
2. Total power is about 12KW, 380V three-phase five-wire.
3. Use 12 stainless steel airfoil 800W heating tubes.
4. The drive uses a 750W inverter motor with a speed of 0-10m / min.
5. The conveyor belt uses stainless steel chain, and the machine feet are made of stainless steel square.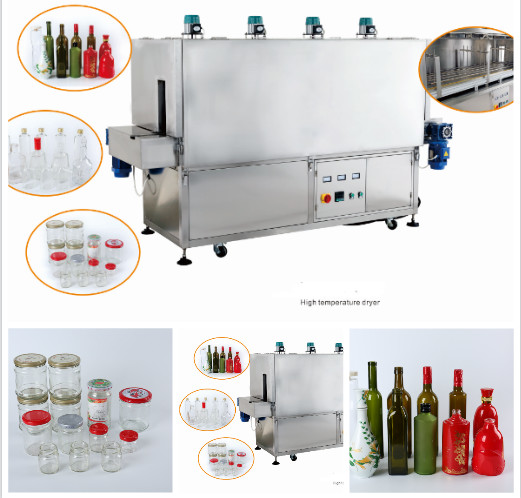 Customized Capacity Bottle Drying Machine Multi - Track Roundabout Circuit
FAQ
1, Are you a manufacturer or trading company?
We have been a direct manufacturer of packaging machines for over 18 years.
2. Where is your factory?
Our company is located in Guangzhou, convenient for customers to visit, and the goods are very convenient by sea or air. You are welcome to visit our factory.
3. Warranty time?
Warranty period: 12 months, we provide one year warranty and provide after-sales service for lif
Tag: industrial dryer machine, industrial bottle dryer