High Efficiency Sticker Labelling Machine Flat Labeling No Wrinkles
Features:
◆ Wide range of applications, can meet the full-period labeling or half-circle labeling of round bottles, simple label switching between bottles, and easy adjustment;
◆ The label has a high degree of coincidence. The tape is deflected using a correction mechanism. The tape does not deviate. The labeling position can be adjusted in eight directions of x / y / z directions and inclination.
Dead corner, high coincidence of labels;
◆ Excellent labeling quality, adopts elastic compression labeling belt, flat labeling, no wrinkles, improve packaging quality;
◆ Flexible application, bottle stand-up labeling, with automatic bottle sorting function, can be produced by single machine or can be connected to production line;
◆ Intelligent control, automatic photoelectric tracking, with the function of no labeling, automatic calibration without label and automatic detection of labels to prevent missing labels and waste of labels;
◆ High stability, advanced electrical control system composed of PLC + touch screen + optical sensor + tag sensor, which supports 7 × 24 hours of equipment operation;
◆ Easy to adjust, the speed of labeling, conveying and bottle dividing can be adjusted sleeplessly.
◆ Sturdy and durable, using a three-bar adjustment mechanism, making full use of the stability of the triangle, the whole machine is solid and durable, made of stainless steel and high-grade aluminum alloy, complying with GMP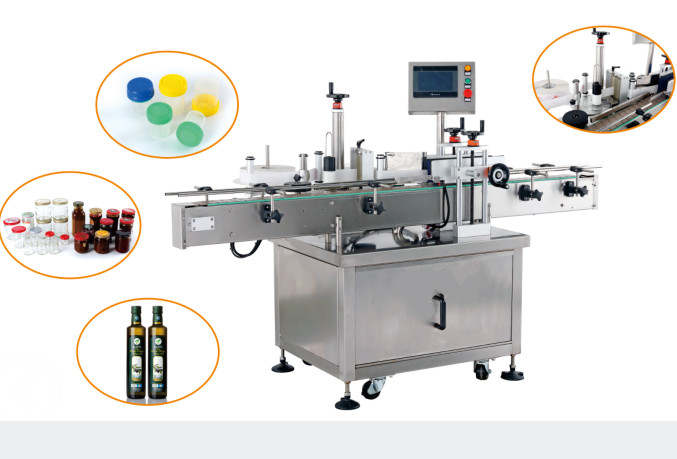 Production requirements;
◆ Optional automatic labeling machine (bottle / can):
① Hot coding / printing function;
②Automatic loading function (considering product consideration);
③ Automatic material receiving function (considering product consideration);
④ Add labeling devices;
⑤ circumferential positioning and labeling function;
⑥ Other functions (customized according to customer requirements).
Standard model technical parameters, other special requirements and functions can be customized.
High Efficiency Sticker Labelling Machine Flat Labeling No Wrinkles 0
◆ Applicable:
Bottle cap labeling,
Can lid labeling,
Round bottle labeling,
Plastic bottle labeling,
Canned food labeling,
Oil bottle labeling,
Pen holder labeling,
Xylitol labeling,
Hand sanitizer bottle labeling,
Pesticide bottle labeling,
Glass bottle labeling,
Hot sauce glass bottle labeling,
Vacuum cup labeling,
Gardenia powder bottle labeling,
Flower tea bottle labeling,
Cow white bottle labeling,
Plastic glass bottle labeling,
Cylinder side labeling, etc.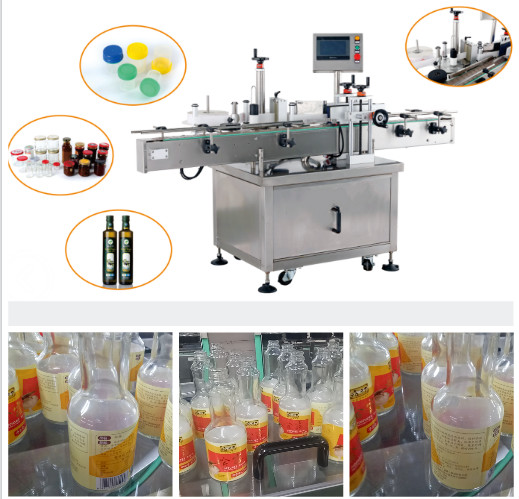 High Efficiency Sticker Labelling Machine Flat Labeling No Wrinkles
High Efficiency Sticker Labelling Machine Flat Labeling No Wrinkles
High Efficiency Sticker Labelling Machine Flat Labeling No Wrinkles
High Efficiency Sticker Labelling Machine Flat Labeling No Wrinkles
High Efficiency Sticker Labelling Machine Flat Labeling No Wrinkles
Tag: sticker pasting machine, ampoule labeling machine, automatic bottle label applicator