Automatic Bottle Packaging Line Soft Drink Production Line
Basic Information
Place of Origin: guangzhou ,china
Minimum Order Quantity: one set
Packaging Details: wooden standard packing
Delivery Time: 7-45 work days.
Detail Information
Product Name: Automatic Bottle Packaging Line Soft Drink Production Line
Application: Beverage Packaging
Packaging Type: Bottles
Filling Capacity:100ml To 5000 Ml
Material: 304 Stainless Steel
Power: 20 KW /AC 220V 50/60HZ
Product Description
Fill machine is a high-tech filling equipment integrating on the PLC microcomputer programmable control, The machine is especially suitable for foodstuff. For example: White spirit, soy sauce, vinegar, seasoning, vegetable oil, syrup, mineral water, edible liquid as well as chemical liquid. It has accurate filling measurement;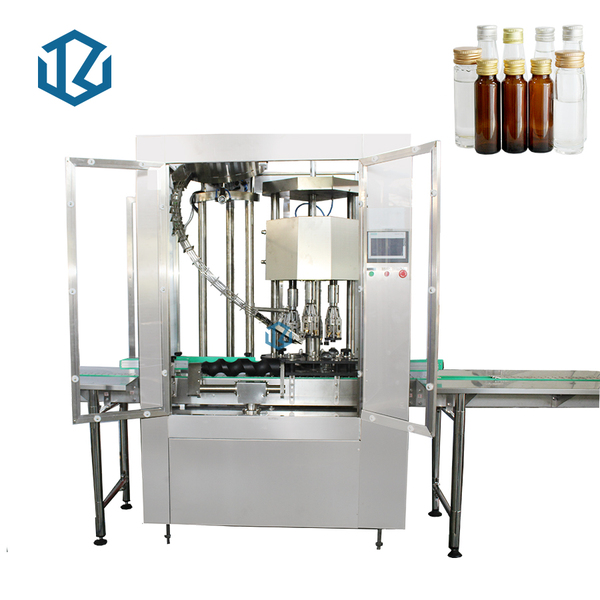 Technical Parameters
1. Number of filling heads: 1 head, 2 head, 4 head, 6head, 8head, 10head, 12head.
2. Filling capacity: 100ml to 5000 ml
3. Filling form: full servo drive filling
4. Filling speed: about 1800 bottles / minute for 1head.
5. Filling accuracy: 99%
6. Material: 304 stainless steel for filling frame
7. Program control: PLC + touch screen
8. Filling mouth and trough contact liquid parts material: 304# stainless steel, food grade PVC
9. Air pressure: 0.6-0.8MPa
10. Conveyor belt: 82mm wide POM chain belt, speed 0-15 m / min, height 850mm ± 25mm off the ground
11. Conveying motor: 370W variable frequency speed regulating motor
12. Power: about 4KW/AC220V 50/60HZ
13. Tank capacity: approx. 200 liters (with level switch).
Can be customized according to the actual situation of the customer
Other filling style reference.
Gravity and Pressure Fillers
The Gravity and Pressure/Gravity Fillers are suitable for bottling virtually any water-thin to medium consistent viscosity liquid. Gravity fillers are ideally suited for thin, foamy products where pressure/gravity fillers handle heavier viscosity products.
Pump Fillers
we offers several different types of pump fillers to accommodate a wide variety of products. They provide an accurate and versatile method for filling low, medium and high viscosity liquids into a wide range of containers. TZ MACHINE uses a variety of pumps including progressive cavity pumps, gear pumps, lobe pumps, rotor pumps or whichever is best for the application. We work with each customer to choose the right pumps, valves, and fittings for each application.
Gravity, Pressure & Vacuum Overflow Bottle Fillers
Overflow Fillers provide the same cosmetic fill level, making them ideal for filling transparent containers that must have a consistent fill level. Gravity and pressure overflow fillers are designed to handle thin to medium viscosity products. The TZ Vacuum Overflow Filler is used for specialty filling applications and is typically used to fill small volume glass containers with low viscosity liquids.
Piston Filling
Piston fillers are another great option for packaging liquids. They offer fast and accurate fill rates, versatility with the ability to handle many different types of products, and they're gentle on products. They're ideal for viscous liquids including batters, sauces, pastes, icing, chunky fillings, and certain aerated products. Generally, these liquid packing machines are used to fill liquids that are squeezed through pastry bags or similar packaging.
Net Weigh Bottle Fillers
Net weigh liquid filling systems are great for making sure that each container you fill contains the same amount of product. They are particularly efficient at packaging bulk quantities of products, along with products that are of high value and require the maximum accuracy when weighing them to avoid lost profits.