Best Price Automatic bottle or jar washing drying sterilization washer machine
Basic Information
Place of Origin:guangzhou ,china
Certification: CE
Minimum Order Quantity: one set
Packaging Details: wooden standard packing
Delivery Time:7-35 work days.
Payment Terms: T/T, Western Union
Detail Information
Product Name: Best Price Automatic Bottle Or Jar Washing Drying Sterilization Washer Machine
Application: Food & Beverage Factory, Construction Works
Packaging Type: Barrel, Bottles
Feature: Easy To Operate
Material: 304 Stainless Steel
Filling Material: Flowing Liquid
High Light: washing filling and capping machine, bottle cleaning machine
Product Description
Best Price Automatic bottle or jar washing drying sterilization washer machine
2KW Automatic Bottle Washing Machine 380V/220V 50Hz Customized Capacity
Automatic bottle washing drying sterilzation machine is flushed with high-pressure water for a long time to rinse the inner bottle. After the flushing is completed, the water is shut off. At the same station, the high-pressure clean air source is used to dry the inner wall of water. The equipment is suitable for various bottle shapes such as round neck bottles, flat bottles and square bottles. It is very suitable for many types of bottles.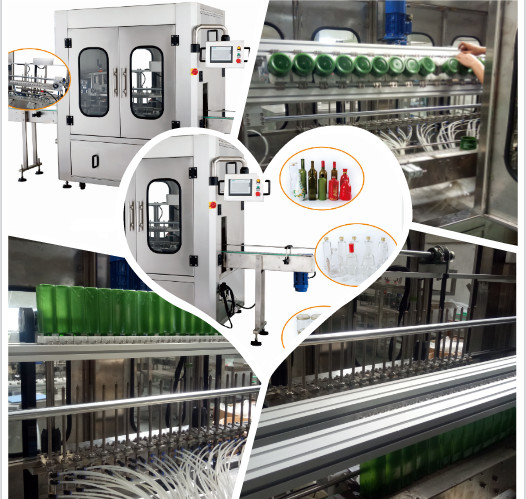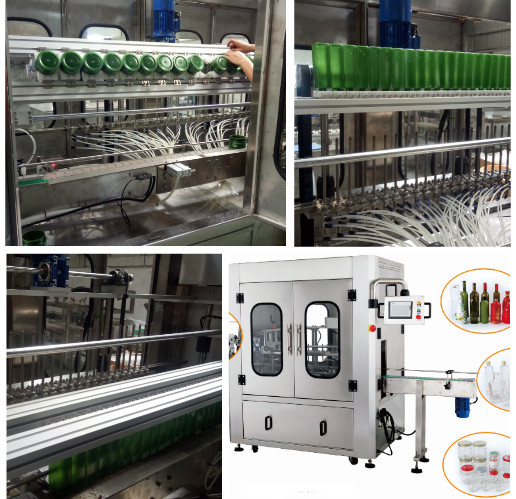 Technical Parameters:
Production capacity: customized 4, 6, 8, 10, 12, 14, and 16 heads according to demand
Power source: 380V/220V 50Hz
Machine power: 2KW
Gas source: 0.6~0.8Pma clean air source
Washing medium: filter water, use water once, compress air.
Program control: PLC + touch screen man-machine interface.
Automatic bottle washing machine is mainly used for washing and drying bottles such as glass bottles, tinplate, canned aquatic products, and canned fruits. Choose from bottle sorting-washing-drying, which can greatly save time and labor. It can replace the traditional manual bottle washing and wiping, etc., which reduces the cost and has high efficiency.
Features:
1. For glass bottles, tinplate, plastic bottles, etc.
The bottle washing machine uses a water pump to circulate spray cleaning. The machine turns the bottle upside down and cleans the bottle at high pressure without dead ends.
2. Rinse with water, then blow with air to blow the water from the top down, so that the inner wall of the bottle will have less water droplets.
3. The washing water can flow away or be designed to use a circulating water pump, so that the water in the water tank can be used optimally.
4, made of food-grade stainless steel, stainless steel conveyor chain conveyor speed can be adjusted.
Best Price Automatic bottle or jar washing drying sterilization washer machine
Related Hotsale Products:
washing machine
drying machine
disinfection machine
sterilization machine
bottle washing machine
bottle drying machine
bottle washing and drying machine
drying sterilization machine
bottle washer
Best Price Automatic bottle or jar washing drying sterilization washer machine 2Best Price Automatic bottle or jar washing drying sterilization washer machine 3Best Price Automatic bottle or jar washing drying sterilization washer machine 4Best Price Automatic bottle or jar washing drying sterilization washer machine 5Best Price Automatic bottle or jar washing drying sterilization washer machine 6
Best Price Automatic bottle or jar washing drying sterilization washer machine
Tag: bottle cleaning machine, automatic bottle cleaner, washing filling and capping machine