High Precise Sticker Labelling Machine / Automatic Bottle Labeler
Basic Information
Place of Origin:GUANGZHOU ,CHINA
Minimum Order Quantity:one set
Packaging Details:wooden standard packing
Delivery Time:7-45 work days.
Payment Terms: T/T, Western Union
Detail Information
Application:Beverage, Medical, Chemical
Type:Paste Tube Machine
Driven Type:Electric
Feature:Convenient Operation
Warranty: 1 Year Packaging Type: Bottles Packaging Material:
Glass, Metal, Plastic
Condition:New
function:sticker pasting machine, automatic bottle label applicator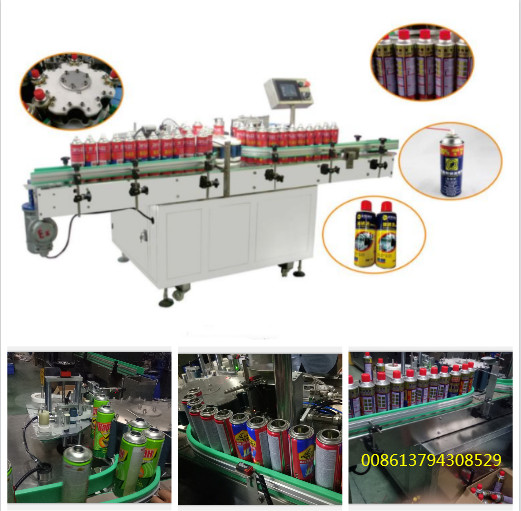 Product Description
Paste tube machine applicable object: aerosols, lubricants, anti-rust agents.
Paste tube machine, also name Label Aerosol Spray Pipe machine, is one kind of machine would automatic putting the small tube to can and labeling it nicely.
High locate label tube machine, high precise positioning label tube
Positioning sticking machine is operated by PLC microcomputer human-machine interface, and the program is practical and simple.
The equipment can automatically set the position of the attached, high precision, labor saving, improve production efficiency and improve product grade.
Characteristics:
1, the advanced label design overcomes the defects that the ultra-thin label cannot be dialed, which greatly reduces the manufacturing cost of the label.
2, the unique bottle insert chuck uses a built-in magnet to attract the bottle, which not only stabilizes the bottle, but also has precise positioning.
3, the clever out-of-pipe method adopts the interspersed inverted tube to ensure the stability and reliability of the outlet tube.
4, the high speed of the tube is attached and the quality is stable, which greatly improves the production efficiency.
5, good design, users can choose positioning and non-positioning tube according to the production capacity,
6, user can set the number of labeling, automatically count, to facilitate statistical output.
7, it adopts advanced computer touch screen control system and touch-operated color screen to display production status, operation program, labeling method and speed, etc.
8, LED touch screen control, easy to operate and easy to maintain.
9,Paste tube machine also call Paste Small straw on Can Machine.
Applicable can or tube size:
Would According to customer's sample parameter:
1. Adapt to the product range:Diameter 45 - 80mm, height110-220mm, 230 mm-300mm
2. gumming size:H15-25mm,L15-35mm(plastic sticker or Paper)
3. tube size:diameter2.1±0.1mm,L 120±1mm
4. labeling tube error:height ±2mm
5. Sticking tube error: positioning paste mode, height direction ±2mm, axial direction ± 2mm.
6. Labeling error: ±2mm
7. Production capacity: about 45-65 bottles/minute
8. The height of the conveyor belt from the ground: 800±20mm.
9. Rated voltage: 220V/50Hz.
10. Overall power: 1.5KW.
11. Working pressure: 0.5-0.8Mpa.
12. Pipe fitting machine configuration: stainless steel, anodized aluminum alloy, plastic parts.
Tag: sticker pasting machine, ampoule labeling machine, automatic bottle label applicator