Automatic Volumetric Liquid Filling Machine 500~1000 Ml Capacity
Basic Information
Place of Origin: GUANGZHOU ,CHINA
Minimum Order Quantity:one set
Packaging Details:wooden standard packing
Delivery Time:7-55 work days.
Payment Terms: T/T, Western Union
Detail Information
Product Name: Automatic Volumetric Liquid Filling Machine 500~1000 Ml Capacity
Packaging Type: Bottles
Filling Capacity: 500~5000ml
Material: 304 Stainless Steel
Power: 1.5KW
function: liquid packaging equipment, liquid filling system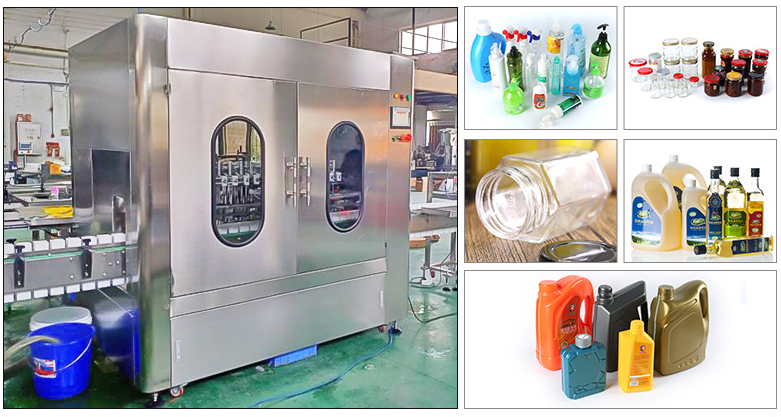 Product Description
Automatic Volumetric Liquid Filling Machine 500~1000 Ml Capacity
adopts:
1, gas-electric integrated touch screen plus PLC system control,
2, high degree of automation,
3, easy operation and high filling precision.
4, And each filling head can individually control the characteristics of adjusting the filling accuracy,
5, increasing the service life and flexibility of the equipment.
Fully Automatic Piston Filling Machine
Technologies piston fillers & piston depositors all start with our innovative product pathway that allows line and disc Series Machines to fill and deposit your products at higher speeds. At the same time, our equipment maintains neatness and precision in your product lines. We configured our piston fillers to deposit accurate amounts of liquids, chunky soups, sauces, and solid food every single time. As a result, our piston fillers and depositors deliver the highest product fill accuracy, with the lowest level of product degradation in the industry.
What's more, your staff will have more time on their hands as our equipment doesn't need looking after every minute of the day. We make sure our machines do as they should: Enhance your process so your workers can be free to perform other, more important tasks.
Our Piston Filling Machines are constructed using 304 and 316L stainless steel and top-quality approved materials. All piston filler models are offered in single or multiple head designs. We also make them available for various applications and industries. Tell us what you need, and we'll discuss the best ways to integrate our machines into your current line.
Piston Filler/Piston Depositors can be used in conjunction with many automated lines to increase production and improve product portion control. With product waste kept at a minimum, you can maximize your product and save on costs.
Production capacity 4, 6, 8, 10, 12, 14, 16 heads
Filling method servo piston type
Filling type quantitative filling
Filling capacity 100~500ml, 500~1000ml, 1000~5000ml
Power 1.5KW
Can be connected with washing machine, capping machine, labeling machine, and other packing machine.
Tag: liquid packaging equipment, liquor bottle filling machine, liquid filling system