High Efficiency Alcohol Liquid Filling Packaging Machines Plc Control 12 Monthes Guarantee
Basic Information
Place of Origin: GUANGZHOU ,CHINA
Minimum Order Quantity:one set
Packaging Details:wooden standard packing
Delivery Time:7-45 work days.
Payment Terms: T/T, Western Union
Detail Information
Product Name:Alcohol Filling Packing Machine
Application:Food & Beverage Factory, Construction Works
Packaging Type:Barrel, Bottles
Feature: High quatliy Easy To Operate
Material:304 Stainless Steel
Filling Material:Flowing Liquid
name: High Efficiency Alcohol Liquid Filling Packaging Machines
Alcohol Liquid filling packing Machine are profession filling packing into bottle machines base on alcohol liquid material.
Filling way: peristaltic pump Filling Machine
Material Type: Alcohol Liquid
Filling Principle: peristaltic pumps
Structure: line
Packaging Material: Plastic bottle or glass bottle
Guarantee: 12 monthes
Transport Package: Wooden cases
Origin: Guangzhou China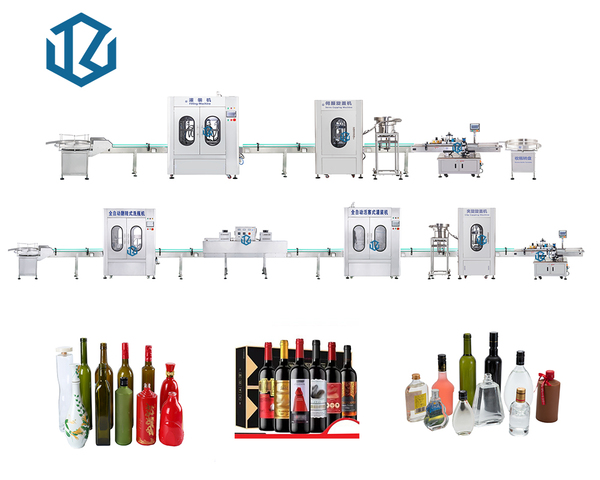 The machine is mainly used for filling alcohol or tea drink or vet vaccines or other liquid. It combines filling and capping as one automatic line suitable for PET or other plastic or glass bottles. The peristaltic pumps filling technology is adopted enabling it to fill more efficiently and more stably with more output than the machine of the same level from others.
Besides using photo-electronic detectors to detect the running of every important sub-process, it employs PLC from OMRON for automatic control of the whole process and new type featuring speediness and damage-free of bottle.
For bottle of different shape only a few parts need to be changed and the substituting is simple, which shows the machine is of good adaptability.
With putting cap platform and easy operation make it an ideal option for liquid filling packing machine.
Siemens Electric parts
Siemens PLC
Quality assurance