Engine oil lubricating oil Filling packaging Machine Line with Hooking Cap and sealing cap machine
Basic Information
Place of Origin: GUANGZHOU ,CHINA
Certification:CE
Minimum Order Quantity:1 pc
Price:Negotiable
Packaging Details:wooden standard packing
Delivery Time:7-30 work days.
Payment Terms:TT, Cash
Detail Information
Type: Filling sealing Machine
Driven Type: Electric
Weight: 3500kg
Marketing Type: bestsale Product 2020 2021
Filling Accuracy: Pace On Liquid
Machinery Capacity: 1000BPH, 2000BPH, 4000BPH, 6000BPH
Dimension(L*W*H): 2400mm 1700mm 2300mm
Certification:Trade Certification
High Light:
Engine oil Filling packaging Machine Line, lubricating oil Filling packaging Machine Line, Hooking Cap and sealing cap machine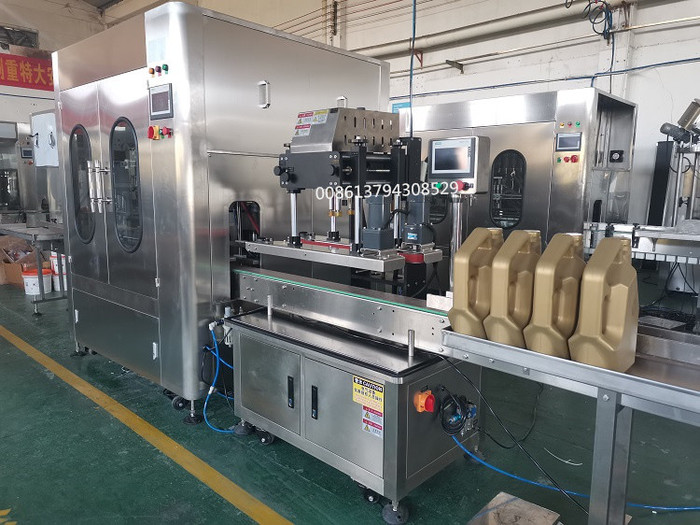 Product Description
Hooking Cap Piston Filling Machine Stainless Steel 2000 ~ 6000 Bottles / Hour
Engine oil lubricating oil filling machine:
1. Number of filling heads: 2~20 nozzles
2. Filling capacity: customers provide samples
3. Filling form: piston quantitative multi-head filling
4. Filling speed: about 1000-6000 bottles/hour
5. Filling accuracy: 99%
6. Material: The filling machine structure is made of stainless steel
7. Program control: PLC + touch screen
8. Filling nozzles and feed troughs, etc. Materials in contact with liquid parts: 304# stainless steel, food grade PVC and POM
9. Air pressure: 0.6-0.8MPa
10. Conveyor belt: 82mm wide POM chain belt, speed 0-15m/min, height above ground 800mm±25mm (according to customer requirements)
11. Conveying motor: 370W frequency conversion motor
12. Power: about 3KW/380V three-phase
13. Protection device: alarm when the storage tank is short of liquid.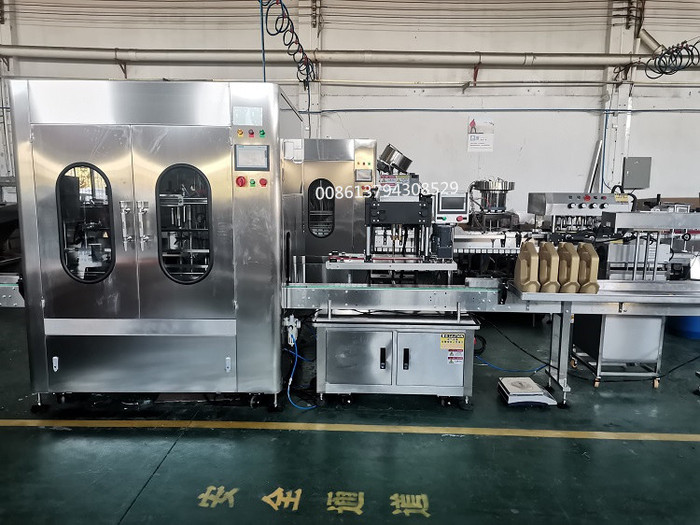 Capping machine
Technical Parameters:
1 arrange cap way: ladder lift mechanism arrange cap (different specifications need to be changed parts)
2. Suitable bottle specifications: according to customer's sample
3. down cap form: hooking cap and downing cap automatically.
4. Capping type: electric gland or pneumatic gland press cap.
5. Speed: about 1000 ~ 5000 bottles / hour.
6. Program control: frequency converter control speed.
7. Machine power: about 1KW
8. Pressure: 0.6-0.8MPa
Engine oil lubricating oil Filling packaging Machine Line with Hooking Cap and sealing cap machine are welcome in engine oil factory, lubricating oil factory for packaging. also would add with foil sealing machine together use.